Road to Alpha & Devlog 13!
---
Road to Alpha
Before I get started I'd like to thank everyone who has taken part on the pre-alpha and all of those who sent in bug reports or gave feedback!
I've decided it's time to talk more about what Freeroam is and what direction it'll be going in. Throughout the pre-alpha my main focus will be on polishing all of the current features while adding some new content but not to much. Once this is done freeroam can go into alpha. Freeroam is expected to be in pre-alpha until June. By Freeroam will be moving into alpha.
I will be focusing on the following things before moving into alpha
Character Animations
Introduction/Tutorial
Character Outfits/Armor/Weapons
Harvesting Animations
Updating all of the icons on the menu
Ability to reset your password
Adding confirmation code when deleting your character
Balancing enemies (damage and loot drops, and shop prices
Balancing items
These are the main things I'll be focusing on over the next month. I will also be looking into player suggestions. So if you have any suggestions or something you would like to see added or changed please submit them.
Now let's talk about new features.New additions will be added very slowly. You might be wondering why. Well the reason for this is because I want to focus one each area and make sure it's polished and bug free. The goal is to provide players with the best experience possible.

Below you can find a list of planned features
Farming
Woodcutting
Mining
Fishing
Flower Picking
Hunting
Dungeons
Map expansion (caves, sewers, new islands
Crafting
Random events
Pets
This list will probably change and grow as time goes by
Quick Starter Guide - Gives a quick rundown about how the game works.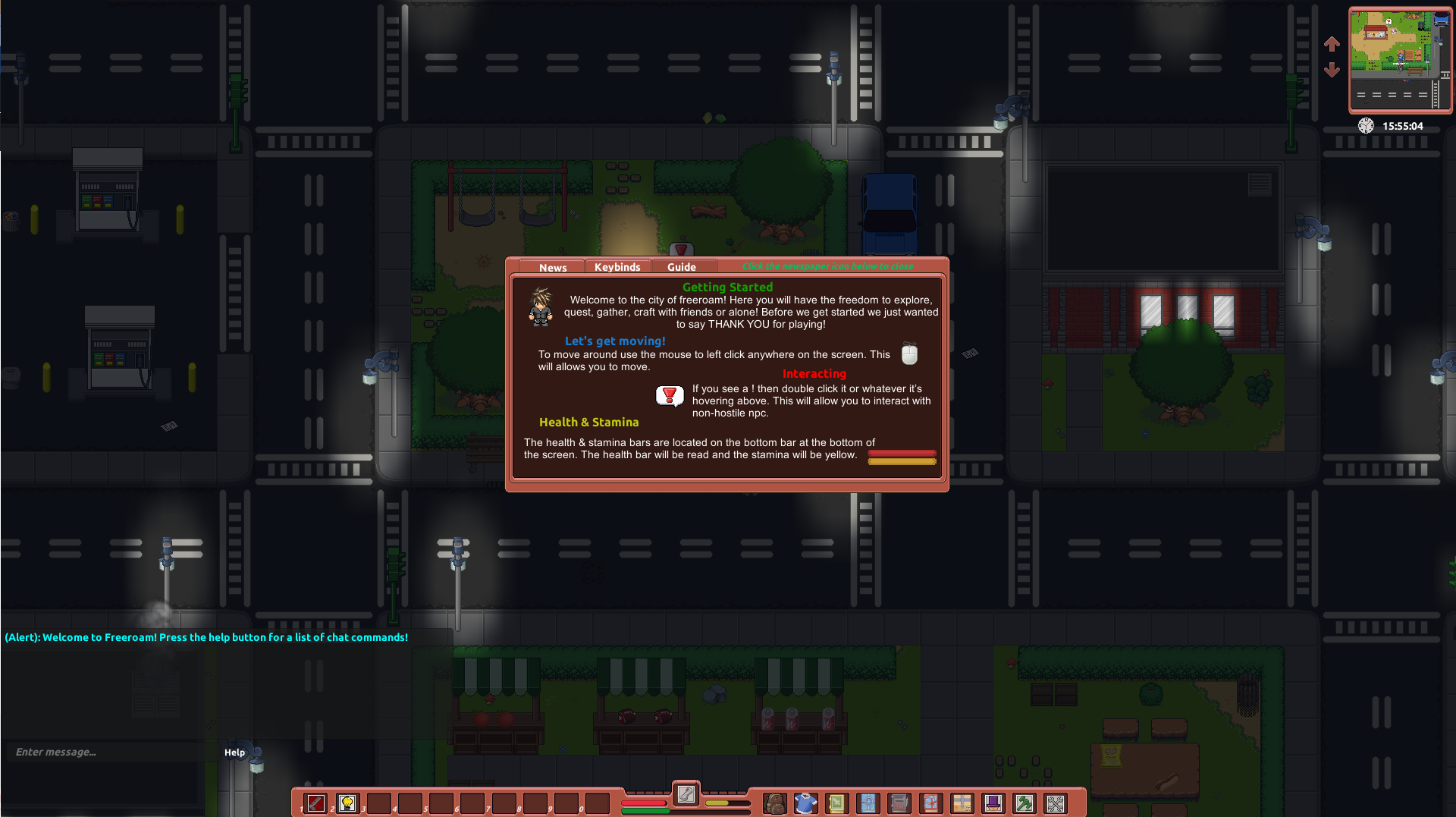 Name & Level Display - names and levels are now displayed properly on enemies. Hostile enemy's that are aggressive names are now red.

Party Member Display - This now displays members in your party.

Chat Updates - Chat now displays when connecting, and global chat has now been added.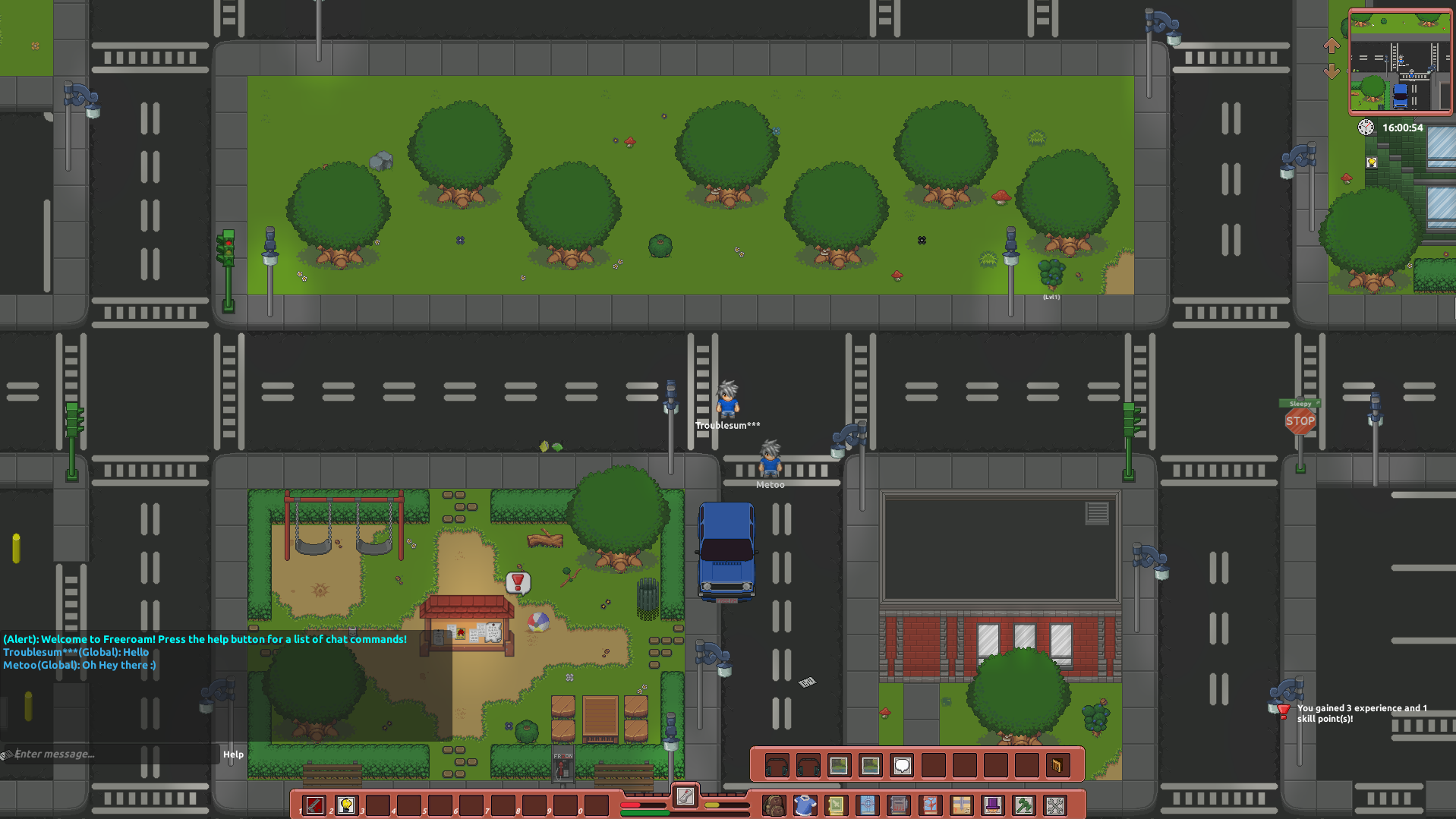 News Display - When logging in a news display now pops up, listing all the latest updates, key binds, and the starter guide.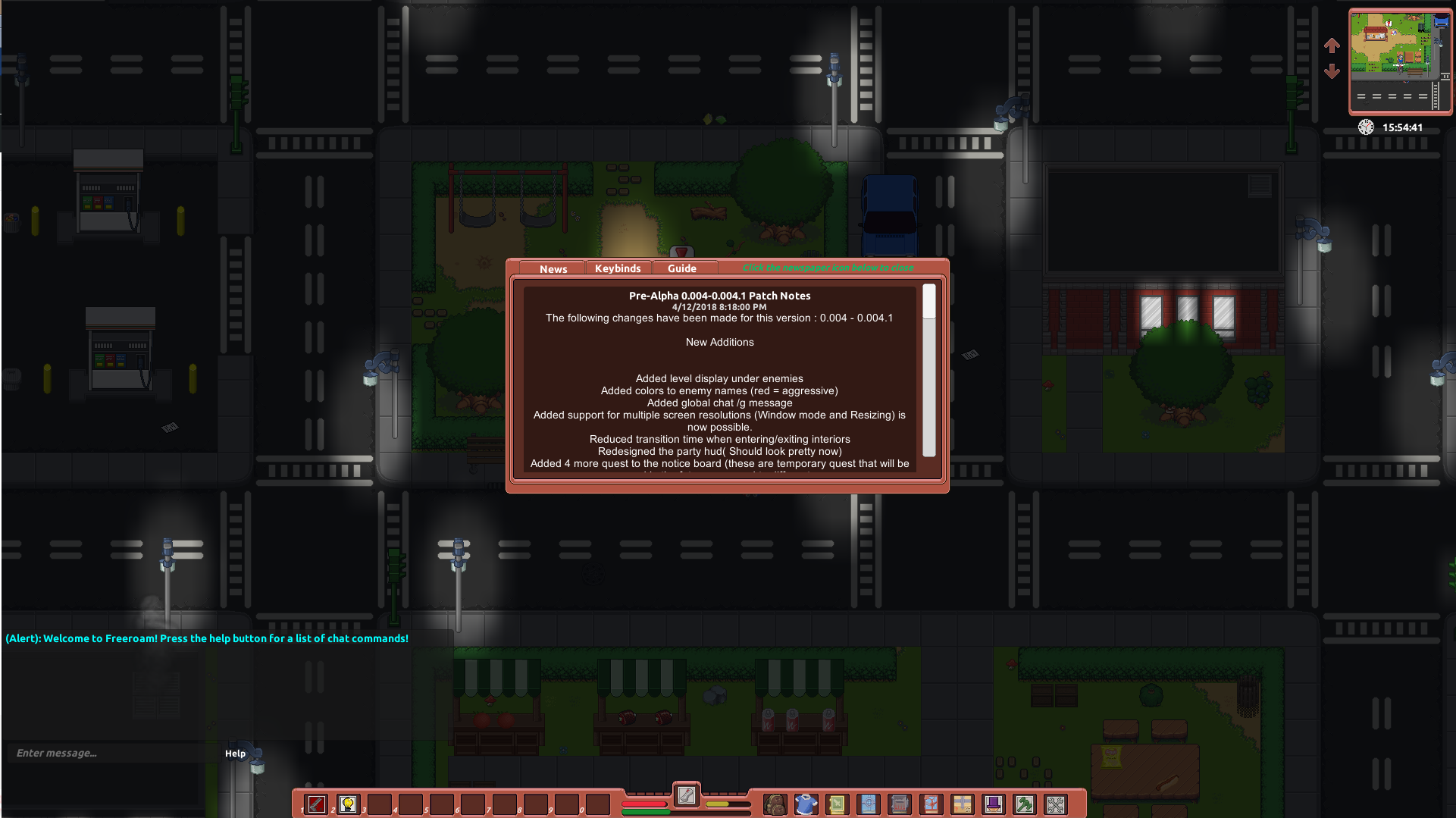 Drag Windows - Windows are now much easier to move around, positions are also saved for the next time you connect.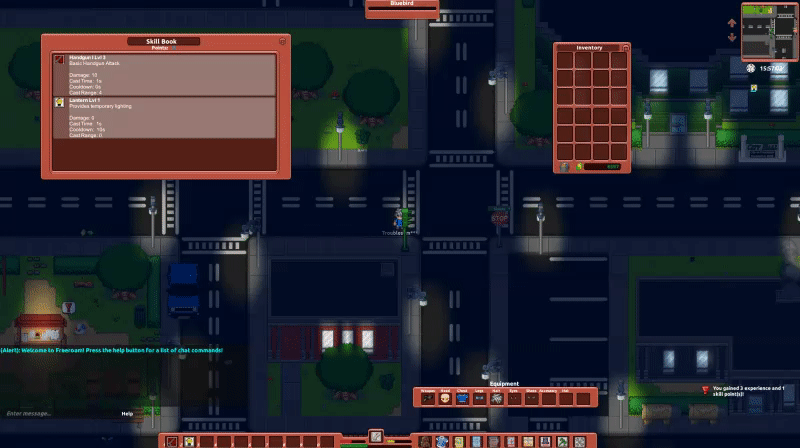 Devlog - 13

New Additions
Added level display under enemies
Added global chat /g message
Added support for multiple screen resolutions (Window mode and Resizing) is now possible.
Reduced transition time when entering/exiting interiors
Redesigned the party hud( Should look pretty now)
Added 4 more quest to the notice board (these are temporary quest that will be removed in the future or moved to different npcs
Chat is enabled by default now (can be disabled from submenu)
Sidebar has been removed, all options are now available on the submenu
Black birds now give 13xp instead of 8 xp

Bug Fixes
Equipment bar shows on top of the chat when both chat and the equipment panel are open(Equipment panel can now be re-positioned)
Removed link buttons on side panel (causing crashes but also not needed)
Certain Npc's are not blocking when they should be (Notice board, and Hotdog stands)
World map typos
Certain items have incorrect descriptions and pricing (Wink face emoji, Bandages, and Blue Sodas)
Window movement needs to be increased so they can be moved easier (Clicking window titles + hold & drag will allow you to re-position windows)
When using WASD it becomes laggy (Disabled until fully fixed)
Entering/Exiting interiors is not always responsive and might cause players to get stuck temporarily (should almost never happen)
When in a party, the display where members are shown stops you from clicking in certain areas
Player names and NPC names displaying on top or through trees and other objects
Remove ability to register accounts with special characters ( doing this will make it so you can't login)
Interacting with hospital npcs and vending machines need to be improved (the hit boxes either cause player to move or are just hard to find)

What's Next
Introduce introduction quest/quest line (this will help teach the player more about the game when first starting off)
Improve NPC Drop rates
Hints(these will help new players and current player)
Gathering Animation
Bug Fixes
Social Media & More

Discord - https://discord.gg/2f8qy2v

Instagram - https://www.instagram.com/cityoffreeroam/?hl=en

Twitter - https://twitter.com/CityOfFreeroam
IndieDB -http://www.indiedb.com/games/city-of-freeroam
Get City Of Freeroam: Online